The Value of Names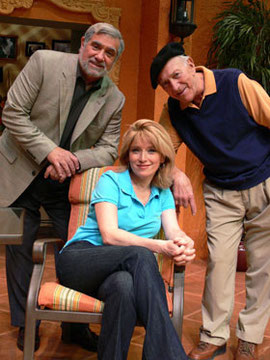 Mit dem Theaterstück the Vallue of Names war Jack Klugman mit Lis Larsen und Dan Lauria unterwegs. Mehre Spielorte standen 2006 und 2007 auf dem Spielplan.
Jack Klugman spielte Benny Silverman. Ausgangslage für dieses Stück ist eine unrühmliche Geschichte Amerikas: Das House on Un-American Activities Committee (HUAC) des Repräsentantenhauses, das 1938 zur Abwehr nationalsozialistischer Unterwanderung amerikanischer Behörden eingerichtet worden war, widmete sich zu Beginn des Kalten Krieges der Bekämpfung kommunistischer Propaganda in der Filmindustrie. Nach Gesprächen mit erklärten Gegnern des Kommunismus, darunter Walt Disney und der spätere Präsident Ronald Reagan, stellte das Komitee eine "schwarze Liste" von etwa 100 Personen zusammen, die es als Kommunisten verdächtigte.
Die Handlung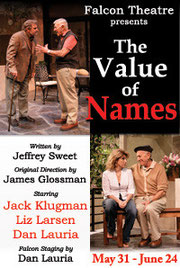 The Value of Names
Written by Jeffrey Sweet Original Direction by James Glossman
Benny Silverman (Jack Klugman) war ein angesagter Komiker, bevor man ihn auf die schwarze Liste (Schauspieler mit Sympathien oder Beziehungen zur kommunistischen Partei) setzte. Der Name wurde von seinem besten Freund, Leo Gershen (Dan Lauria) weitergegeben. Fünzig Jahre später treffen sie sich wieder. Zusammen mit seiner Tocher Norma (Liz Larsen), einer Schauspielerin, welche ihren Namen aufgeben will und in einem Stück mitspielen möchte, dessen "Nemesis" Leo produziert.  
http://www.georgestplayhouse.org/calendar/past_event_details.php?nID=215

The Falcon Theatre presents a limited engagement of Jeffrey Sweet's poignant drama, The Value of Names, starring Golden Globe and Emmy Award-winner Jack Klugman (The Odd Couple, Quincy, M.E.), Tony-nominated Liz Larsen (Law & Order, Hairspray on Broadway) and Dan Lauria (The Wonder Years, JAG).
Benny Silverman (Jack Klugman) was an up-and-coming comedian before getting blacklisted at the height of the Red Scare when his name was given up by his best friend, Leo Gershen (Dan Lauria). Now, fifty years later, he must come to terms with his daughter Norma (Liz Larsen), an actress who wants to give up his name and, even worse, act in a play directed by his nemesis, Leo.
Kritiken
"You may never see a finer cast…Liz Larsen is wonderful…Dan Lauria gives the performance of a lifetime!" Upstage Magazin 
"The real value of names can be found in the person of Jack Klugman, who stars as an irascible retired comedian…" -VARIETY
"Lauria is a commanding presence…Larsen nicely downplays her character…Yet it is Klugman who dominates the evening…an easeful and authoritative performer whose keen sense of timing is undiminished by time, Klugman is an abiding talent seen here at the heartening peak of craft." -Los Angeles Times
"Jack Klugman is a joy to watch…Liz Larsen is engaging and delivers a wonderfully realized performance." -Trenton Times
"Klugman demonstrates that he still has his stage chops with his powerful turn as a victim of the Hollywood blacklist...the veteran actor wins over the audience with his gruff but utterly endearing presence" -Hollywood Reporter "Names remains searingly topical, a frank, funny treatment of ethical equivocation, moral relativism, and the dangers of untrammeled rationalization." -Los Angeles Times
Photos by Wesley Horton
Bilder mit freundlicher Genehmigung von Falcon Theatre.
Interview zum Stück